How Does Comvita UMF 20+ Manuka Honey Work?
Manuka Honey comes from the nectar of the flower of the Manuka bush (Leptospermum scoparium) which is native to New Zealand. It is this very nectar and the bees that pollinate it that give this honey its unique properties.
What is really unique to Comvita is that this Manuka honey company supplies medical-grade (sterilized, high UMF) Manuka Honey in hospitals and clinics to treat wounds, cuts, and burns. Now that's what we call effective!
Comvita also takes great pride in the fact that all of their products are free from antibiotics, complying with the New Zealand Ministry of Health GMP Certificate. This ensures the safety and efficiency of the therapeutic and medicinal properties of each jar of this amazing honey.
While a healthy diet may contain some of the crucial nutrients, oftentimes it is simply not enough due to the unknown sources of food and chemicals used in processing. The food we often eat lacks in protective compounds and minerals.
This is where Manuka honey steps in. Those seeking natural ways of boosting the immune system, extra energy or even treating chronic conditions, the Comvita UMF 20+ Manuka Honey might be the perfect choice for you!
By regularly supplementing your diet with just one tablespoon of delicious honey, you make sure your body is nourished and functioning at peak capacity.
Manuka honey with UMF 15+ and up has strong antibiotic effects and is great for people wanting to prevent common colds or treat a sore throat. It's time to retire that cough syrup on the shelf!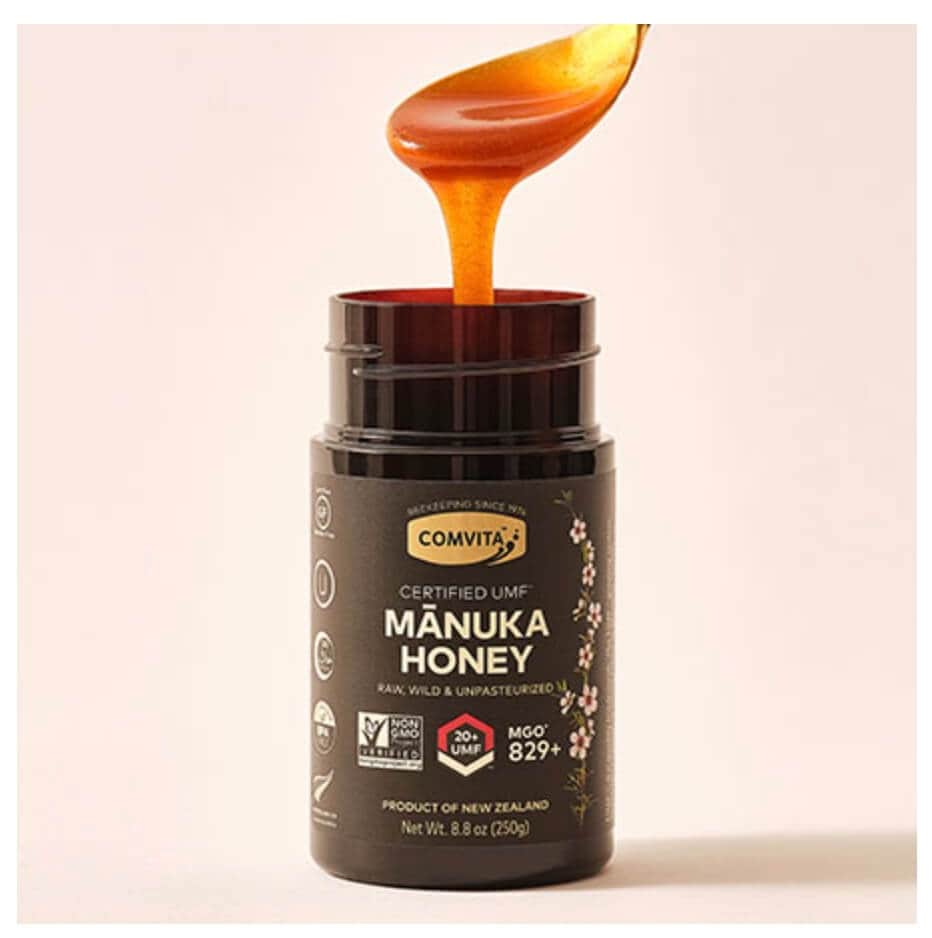 Problems with dry skin? 
Manuka honey will do wonders for you!
If your skin is dried out, the hydrogen peroxide in pure Manuka honey can help get rid of that dry skin and use its moistening properties to draw moisture from the environment right into your skin. It's particularly great for soothing and healing dry, chapped lips.
Manuka honey is a fantastic solution with so many amazing benefits for the skin and body.
As a proud member of the UMF Honey Association, Comvita offers products from UMF 10+ all the way up to UMF 20+, with the highest potency being medical grade. 
High peroxide activity found in UMF 20+ Manuka honey can be a game changer in reducing inflammation in acne-prone areas.
Apply a thin layer of Manuka honey directly to the skin, leave it for 15-60 minutes and then wash it off with warm water.
Your skin will be glowing!
Not sure which UMF grade is right for you? Lear about the different Manuka honey rating systems here.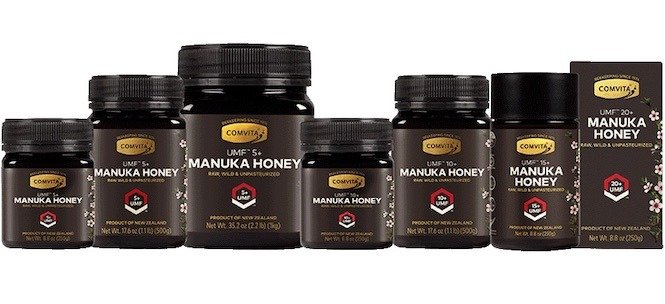 Availability and Features
– available in 8.8 oz (250g), 17.6 (500g) and 35.2 oz (1kg) jars
– UMF 5+ (MGO 83+), UMF 10+ (MGO 263+), UMF 15+ (MGO 514+) and UMF 20+ (equivalent to MGO 829+)
– pure and genuine Manuka honey from New Zealand
– smooth texture and amazing taste compared to other brands
Manuka Honey Use and Application
To get the best results, it is advised to take 2-3 tablespoons, 1-2 times per day.
How Effective is Comvita Manuka Honey?
The effects of Comvita UMF 20+ Manuka Honey can be noticed in just after a few days when used as a facial cleanser and in as little as two weeks for chronic illnesses such as pneumonia or sinusitis.
That being said, in our testing, we have reported amazing results after applying the product on acne scars in just over one week! And that's after going through a full cycle of antibiotic-based retinoid gel which only made the skin worse over time. How can you possibly beat that?
As Comvita is free of bee pollen and wax, anyone who is allergic to bee products can use this product safely.
Comvita is undoubtedly a company that is focused on delivering exceptional products with a proven track record of happy users around the world. There is no surprise why there are so many happy users of Comvita Manuka Honey across the board.
Where Can I Buy Comvita Manuka Honey?
At Manuka Honey Organic we provide resources and suppliers which you can confidently use to get the best deals for all Comvita products. Feel free to use the links on our website to get the best deals available.
FAQ
1. Is this multifloral manuka honey? No. Manuka honey multifloral is a blend of creamy manuka honey and other New Zealand wildflowers. You can check it out here.
2. Is Comvita Manuka honey good? Comvita is one of the leading Manuka honey producers in the world. It has proven to provide a lot of health benefits for a healthy gut and strong immune system.
Overall Review
Overall, Comvita is truly a great solution for people seeking an organic option to improve their overall wellbeing. It is a great choice for vegans who seek to use only natural products and that is why it is ranked as number two in our list.
Our lab test results confirm the medicinal properties of this Manuka honey.
Taking into account the meticulous process of producing this excellent honey, we are confident that you are going to be pleasantly surprised with this option if you are conscience in purchasing a product that is environmentally friendly and supports the New Zealand beekeeping community and sustainable growth.
Comvita's over 45 years of experience in building its brand in the marketplace is a legacy to their products and customers experiencing life-changing results while quitting prescribed medication altogether.
If you've been seeking a proven, vegan solution, get Comvita UMF 20+ Manuka Honey today, you can also find where to buy it from our homepage.