Healthy Manuka Granola Recipe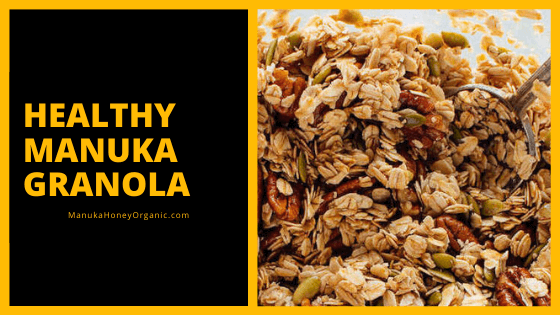 Healthy Manuka Granola Recipe
A wonderful Healthy Manuka Granola recipe perfect for satisfying that sweet tooth.
Good For:
Snack or Dessert
By: Manuka Honey Organic
This Healthy Manuka Granola recipe is a great way to kick off your day.
It's take very little time to prepare and make so you can save yourself loads of time. 
1 cup or 250g of rolled oats
4 tbsp of coconut oil
2 tbsp of Manuka honey
150 g/1 cup of hazelnuts or brazil nuts
Here are the nutrition facts for this recipe.
Protein

35%

35%

Carbs

50%

50%

Fats

15%

15%
Below you will find details instructions on how to make the most out of your Healthy Manuka Granola.
Step by Step Instructions
Step 1
Preheat the oven to 180 degrees.
Spread the nuts on a baking sheet and cook in the oven for 10 minutes. Cool for 10 minutes and chop them up.
Step 2
In a large bowl mix oats, liquid coconut oil, Manuka honey and chopped nuts.
Step 3
Line a regular-sized pan with cooking paper and make sure the sides of the pan are covered with the paper.
Next, empty the bowl into the pan, spread evenly and pack in firmly.
Step 4
Bake for 20 minutes until the granola turns golden and smells like honey.
Let it cool for 5 minutes before taking out of the oven.
Take out of the oven. 
Step 5
Cool for 1 hour and store in a vacuum container.
Enjoy!
This Healthy Manuka Granola is best consumed when cool.
You can take it to work and eat on the go which is very convenient for busy people.
We hope you enjoyed our Healthy Manuka Granola recipe and that it will bring much joy and healthy meals to your life.
Let us know how you liked this recipe in the comments below!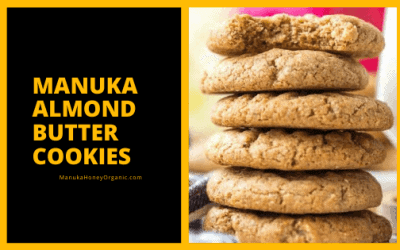 Manuka Almond Butter CookiesA delicious and healthy snack with almond butter.Servings 40 mini cookiesGood For: Snack or DessertReady In: 45 minCalories: 1000About This RecipeBy: Manuka Honey Organic Easy-to-make recipe for those sugar cravings. Spice up your diet with...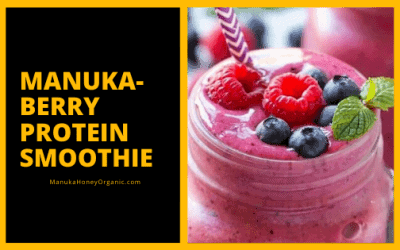 Manuka-Berry Protein SmoothieA nutritious mixed-berry smoothie with manuka honey and protein.Servings 1Good For: Snack or DessertReady In: 15minCalories: 750About This RecipeBy: Manuka Honey Organic This healthy berry recipe is something I have been using for the past...