Authentic New Zealand Manuka Honey
New Zealand Honey Co. Raw Manuka Honey UMF 24+ is an ultra high-grade and probably the most powerful Manuka honey on the planet. Equivalent to MGO 1122+, New Zealand Honey Co. Raw Manuka Honey UMF 24+ introduces an entirely new class to premium high-strength Manuka honey.
Since its conception in 2006, the company has been growing exponentially, bringing authentic New Zealand UMF-certified products.
The nutritious profile of the UMF24+ Raw Manuka honey is extremely rare and not offered by many other companies.
So.. how does it stack against other well-known brands?
Let's find out.

Best Manuka Honey Brand With UMF
Even though New Zealand Honey Co. is a relatively young company, their products are nothing short of amazing. The flagship UMF 24+ is the most potent Manuka honey the company has to offer. It boasts a rich nutrient profile that has antibiotic properties as well as meets all the rigorous UMF standards.
But what does that mean?
This means that in order to achieve this level of power, the honey has to come from only a few select locations in the world capable of producing Manuka honey of such high potency. These places are located in remote parts of New Zealand where the bees are untouched by urbanization.
Holding UMFHA license #2060, you can be sure that you are getting authentic Manuka honey from New Zealand.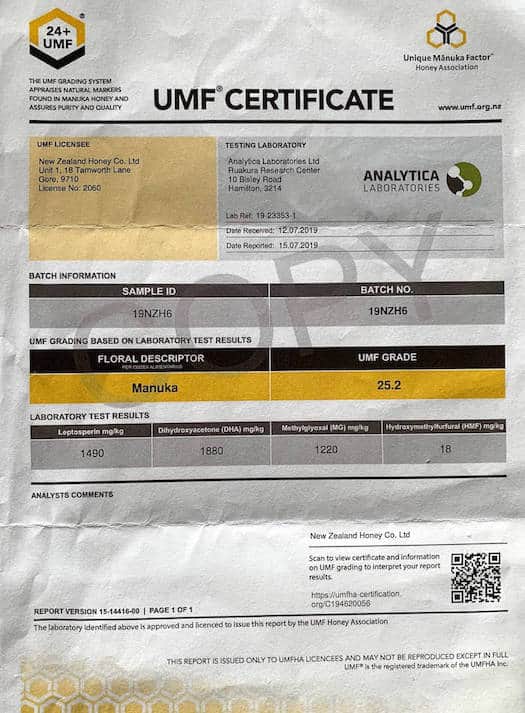 Upon close inspection of the UMF certificate, this is the data we have collected:
Leptosperin 1490 mg/kg
Dihydroxyacetone (DHA) 1880 mg/kg
Methylglyoxal (MG) 1220 mg/kg
Hydroxymethylfurfural (HMF) 18 mg/kg
The final grade granted by the UMF Association is 25.2.
That is even higher than on the label!
Those are some really impressive numbers which we have never seen before.
On top of that, every jar comes with a QR code that you can scan with an app (available on Android and iPhone) to verify the authenticity of the honey as well as view the UMF certificate. This is pretty incredible for the Manuka community as there are many brands out there that can't be verified or tracked from hive to home.
If you are looking for the most powerful UMF-certified manuka honey, the New Zealand Honey Co. UMF 24+ Manuka honey is your best bet.
Pros And Cons
Here's a quick summary of the pros and cons of this special honey.
Pros
✅ Highest grade Manuka on the market
✅ Rare UMF 24+ (MGO 1122+ equivalent)
✅ Raw, monofloral honey
✅ Herbaceous flavor with undertones of caramel
✅ QR code on each jar
Cons
❌ Quite expensive

Company Overview
New Zealand Honey Co. believes in transparency and providing the most accurate data on Manuka honey. This company is one of the few that clearly identifies both the UMF and MGO markers (read more about what is MGO in Manuka honey here) in all of their Manuka honeys.
This is very important because we as consumers want to have a quick and easy way of comparing different products with different potencies.
New Zealand Honey Co. was founded in 2006 by South Island beekeepers and was one of the first companies to promote the health benefits of Manuka honey and export the product worldwide.
"All our Manuka honey can be traced from hive to home. It is also UMFHA-certified, raw honey that is NON-GMO and Glyphosate Residue Free with no antibiotics."
The company has received many awards, mainly as New Zealand's fastest-growing company.
Now, the company is a global exporter of Mānuka honey, along with New Zealand distribution. It is operated in New Zealand in its entirety.
The three-generation family has established a strong relationship with the bee communities in Central Otago and Canterbury regions in New Zealand. The long-lasting relationships with numerous high-country farming stations provide access to some very remote locations for their bees to thrive in manuka forests.
Holding license no. #2060, New Zealand Honey Co. is a qualified and accredited UMF™ member. This means that all their honeys meet the strict quality requirements and purity standards set by the government of New Zealand and the UMFHA (Unique Mānuka Factor Honey Association).
Is New Zealand Honey Co Any Good?
To put it simply… this raw honey is incredible!
It's thick, with caramel color. The taste finds a perfect balance between bitter and sweet and we simply love it. We haven't noticed much crystallization after using this medicinal honey for a month.
Effects
I have been always struggling with random acne breakouts on my face for years. After just two weeks of daily supplementation, the acne on my forehead was not only gone but my skin became smoother and more radiant.
I also noticed that my sleep has become much deeper. I am now waking up refreshed and ready to crush the day. I can definitely feel a dose of extra energy throughout the day.
I really love the fact that my skin is glowing every day now.
As far as digestion goes, I haven't experienced any changes – it has been mostly the same. Bowel movements were consistent for the whole month.
Availability and Features
– available in 8.8 oz (250g) and 17.6 (500g) jars
– UMF 5+, 10+, 15+, 20 and 24+
– pure and genuine raw manuka honey from New Zealand
– QR codes for traceability
How To Use It
Daily supplementation is best with one tablespoon of Manuka honey before breakfast.
Where Can I Buy New Zealand Honey Co Manuka Honey?
At Manuka Honey Organic we always strive to deliver the best deals so you can get the best price for all Manuka honey products. Get best price here.
Overall Review
In conclusion, New Zealand Honey Co. UMF 24+ Manuka Honey is your best honey choice if you are serious about enhancing your life and preventing numerous illnesses.
We highly recommend this product to those who are looking for the best absolute honey on the market. It's not cheap but the price tag justifies the high-grade UMF 24+ rating. This Manuka honey is not your average run-of-the-mill honey.
The methylglyoxal content of 1120+ has a direct correlation to high antibacterial activity and that is why this honey can be considered medical grade.
With its appetizing flavor, it is a superfood like nothing else and the best honey to buy to improve your health. We really enjoyed the rich caramel flavor.
The unique monofloral profile, and the fact that this honey is raw, makes it extremely rare and special among the best honey brands on the market.