WHAT iS UMF, MGO, AND KFACTOR?
Everything You Need To Know About Different Manuka Honey Grading Systems
What is UMF?
UMF stands for "Unique Manuka Factor" and is a grading system developed by the UMF Honey Association in New Zealand.
The UMF Honey Association grants UMF licenses to Manuka honey manufacturers who meet their rigorous standards.
Every batch of honey is tested by the UMF Honey Association for authentic Manuka honey from New Zealand.
UMF tracks key signature markers: Leptosperin, Methyglyoxal, and DHA as well as HMF.
All of these chemicals must be present in Manuka honey for it to be authentic and receive the Unique Manuka Factor.
The final UMF number is based on all of the chemicals combined. Here are some examples of UMF potencies:
Certified Authentic, Everyday: UMF 5+ to UMF 9+
Premium Grade: UMF 10+ to UMF 15+
Ultra Premium Grade: UMF 15+ to UMF 20+ and above
Superior Rare High Grade: UMF 24+
Every Manuka manufacturer is required to hold a valid UMF license to obtain a UMF trademark on the label.
Below is a UMF certificate granted to Comvita.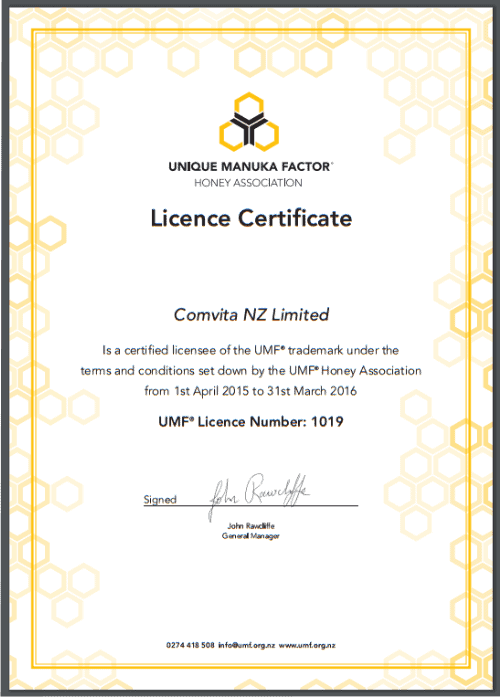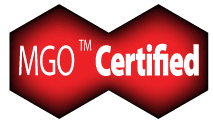 What is MGO?
The MGO grading system has been developed by Professor Thomas Henle in 2008.
It is primarily used by the company Manuka Health.
Manuka Health is the most popular company that uses the MGO grading system. In addition, Manuka Health conducts independent research on Manuka honey to bring new standards to the Manuka world.
MGO stands for methylglyoxal which is a chemical that naturally occurs in Manuka honey.
According to Manuka Healthy, it is the "magic ingredient" in Manuka honey that was discovered by one of their research partners – Professor Thomas Henle (University of Dresden).
Here's a comparison between different levels of MGO and UMF: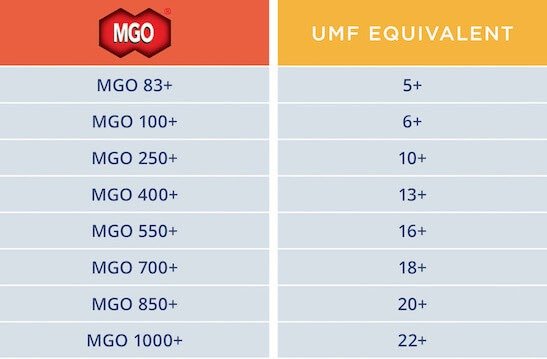 It's worth noting that Manuka Health is also a member of the UMF Honey Association.
Each jar of MHO Manuka Honey is tested for potency and traced from hive to home, keeping up with high standards of Manuka honey.
The higher the MGO content, the higher the grade of Manuka honey.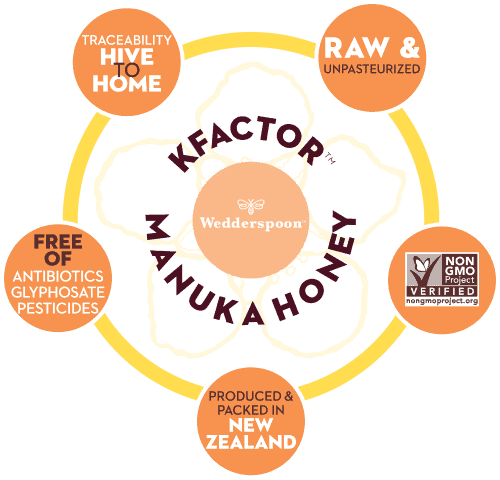 What is KFactor?
KFactor is a marketing term used by the company Wedderspoon.
The label follows New Zealand's Ministry for Primary Industries guidelines. MPI develops standards for Manuka honey in New Zealand.
The KFactor standard ensures you are getting the following:
– raw and unpausterized honey
– free of antibiotics, glyphosate and pesticides
– NON-GMO
– traceability from hive to home
– comes from New Zealand
On top of that, there are two main varieties of Wedderspoon's Manuka honey; KFactor 16 and KFactor 12. There is no clear significance of the numbers 12 and 16, other than potentially to confuse consumers who are looking for UMF numbers.
KFactor 16 is a monofloral honey that is "wholly or mostly" made from the Leptospermum scoparium (Manuka) plant.
This means this honey is more of a single-plant extract.
KFactor 12 is a multifloral Manuka, that is more of a "blend" of Manuka and other floral types.
Manuka Markers
The most common marker for Manuka honey is MGO (methylglyoxal).
It is a natural compound with antibacterial properties and is measured in the UMF and MGO grading systems.
However, the UMF grading system also measures NPA (non-peroxide activity) which represents the industry's standard phenol disinfectant.
The NPA marker relates directly to the overall UMF rating. If a Manuka honey has an NPA of 18 then it will be UMF 18+.
Leptosperin is naturally found in Manuka honey and is also measured in UMF. Leptosperin uniquely identifies Manuka. If it doesn't have Leptosperin, it's not Manuka.
DHA (dihydroxyacetone) is also present in the UMF grading system. It is the precursor for methylglyoxal and determines the overall MGO levels.
The KFactor grading system is quite different than UMF and MGO. 
Interestingly, it does not measure MGO, NPA or leptosperin levels.
Please find the chart below for a comparison of UMF, MGO and KFactor systems and the markers they measure.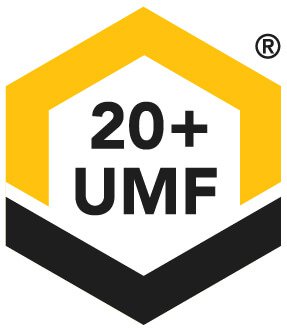 MGO (methylglyoxal)
Leptospermin
DHA
Purity

purity
live enzymes
pollen count (70% and higher)
DHA
PH levels
antioxidant levels
phenolic compounds
So how to compare the quality of the different Manuka honeys if they use different grading systems?
Well, the UMF and MGO grading systems measure one common marker which is MGO.
The concentration of MGO (methylglyoxal) ranges from 0mg/1kg to 1000mg/1kg. Anything above 100mg/1kg is considered antibacterial.
In turn, this makes it easy for consumers to understand that a MGO 100+ Manuka honey contains at least 100mg of methylglyoxal.
The UMF rating corresponds directly to the NPA levels.
Please go to the table for a comparison of NPA, UMF, and MGO.
| | | |
| --- | --- | --- |
| NPA | UMF | MGO |
| 10 | 10+ | 256+ |
| 15 | 15+ | 514 |
| 18 | 18+ | 696+ |
| 20 | 20+ | 829+ |
Manuka Honey Grade Levels
Lastly, let's look at the final comparison chart to get an idea of the uses for Manuka honey at different grade levels. Please refer to the chart below on how to choose Manuka honey.
.
| USE | UMF | MGO | KFACTOR |
| --- | --- | --- | --- |
| Very high antibacterial activity. Superior healing properties. | 15-20+ | 514-829+ | 16-22 |
| High antibacterial activity. Good healing properties. | 10-15+ | 263-514+ | 14-18 |
| Medium level activity. Suitable for maintaining good health. | 5-10+ | 83-263+ | 8-14 |
| Low level activity. Comparable to normal honey. | 0-5+ | 0-40 | 0-8 |
We hope this guide was helpful in understanding What is UMF, as well as the differences between UMF, KFactor and MGO grading systems.